"Beauty and art don't need validation"
READ THE FULL INTERVIEW ON SOUNDREEF.COM
Killing Cartisano, Roberta Cartisano's reincarnation, is a multi-instrumentalist songwriter and producer. Her mellow, yet powerful psycho-folk captivates you instantly. We had the pleasure of interviewing her.
Hi, Roberta! Tell us a bit about yourself: where are you from? When did you become passionate about music?
Hey guys! I come from Reggio Calabria, in southern Italy. I grew up in an environment surrounded by music which made me become a musician without choosing. My grandmother plays the piano. She always tells me about how she used to play the accordion during WW2. They were all homeless back then. Music helped keep their minds off things. And still to this day she keeps repeating that "Music is life". I started writing songs in elementary school while taking piano lessons and I haven't stopped since. I started learning to play the bass guitar thanks to my brother, who's a bass player. He also taught me stuff like musical arrangement and production. We used to make music on a 4-track cassette tape machine. We had a blast. Our room was a mess, there were mics everywhere, vintage guitars, basses, a Farfisa organ, and a Korg M1 synth. We used to play on my dad's vinyl; he loved music and old school HIFI stereo systems. Thanks to my dad I was lucky enough to grow up listening to Alan Parson, Pink Floyd, Doors, Electric Light Orchestra, Gershwin and many more.
How did you come up with the name "Killing Cartisano"?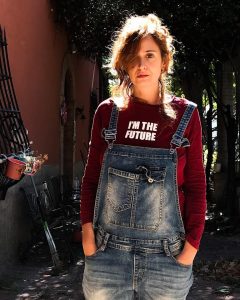 A few years ago, I got robbed of 4 years' worth of pre-production of my third album in Italian (as Roberta Cartisano). It was pretty much ready to be recorded.
When my fans found out they spontaneously started a crowdfunding campaign. In just 1 week I was able to get new equipment to get back to work, all thanks to them. Talk about making the best out of a bad situation. I couldn't go back to those songs, though, it hurt too much. This new album was so heartfelt, it just came right out. Back then I started posting pictures on social media with the hashtag #killingcartisano without really thinking about it that much. I felt this incredible energy inside. As if I were transitioning towards a new form of existence. In life and in music alike. And that's how I killed the old Cartisano. I just went with the flow.
So, does that mean you've abandoned your Italian project for good? Why did you decide to "reincarnate" as KC?
When journalists found out I had become KC they reacted by saying 'It's such a shame. It's so rare to find an artist that writes so well in Italian". Comments like these are such a confidence booster.  They came after years in which I had decided to completely disappear. I never actually stopped writing in Italian. I write and make music every day, regardless of…